How big or how small your outdoor space is doesn't define how you use the area. In fact, no matter your outdoor square footage, you can create an exquisitely designed patio, porch, deck, yard, or garden area that fulfills all your wants and needs. Read on for plenty of tips on how to maximize your enjoyment with top outdoor space ideas.
---
Outdoor Space Ideas for Small Outdoor Spaces
You don't have to own a country estate with a sprawling lawn or even a home in the suburbs with a moderately sized yard to enjoy the tranquility of nature. Whether you live in a studio apartment with a balcony in the middle of NYC, a condo in Seattle with a deck, or a 1960s bungalow with a small patio in Missouri, you can maximize your minimal space with a little creativity.
Change Up Railings & Fencing — If you have a deck that's seen better days, consider replacing those traditional railings with something that feels a little more fresh and better fits with the style of your home. Horizontal cable railings, glass, aluminum grid panels, or even horizontal boards add unexpected elements to any space, giving it a more modern contemporary feel.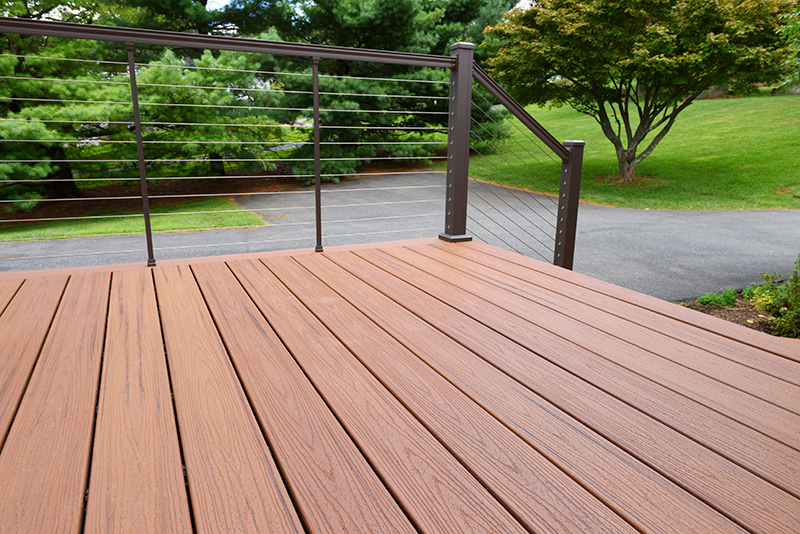 Work From the Ground Up — Like the look of tile but don't have the budget? A little paint, some stencils, and a bit of patience can transform that bland concrete porch into something spectacular. Etsy sellers offer plenty of stencils that mimic the look of tile.

Change up Your Deck Color — Want to give your small deck more depth? Giving your wooden deck a facelift by changing the stain color is a budget-friendly way to make the wood feel new. If you need a total replacement, a composite deck offers a rich variety of brown, grey, and red tones that complement every home's style.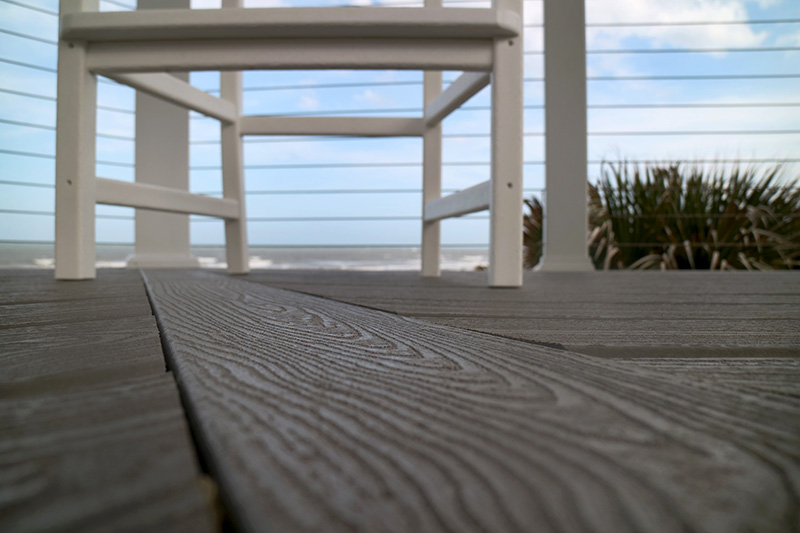 Reach for the Sky — One way to make even the smallest spaces seem a little roomier? Adding tall accents. Think footed planters with plants that grow up — banana plants, palms, citrus trees, rubber plants. Outdoor curtains, tall dividing screens, and trellises are other great ways to incorporate height and privacy.
Think Smaller — You may have to give up the dream of a full-size sofa or sectional in your outdoor space, but you don't have to give up on the idea of comfort. A settee with plush cushions or comfortable club chairs are both great solutions in smaller spaces.
Make it Multipurpose — That bench can serve as a coffee table and seating. An ottoman? Seating and storage. Baskets under a sofa can maximize space. A side table can sub in for a coffee table, and a coffee table and two Adirondack chairs can serve as an unofficial dining area.
Glow it Up — You may not have the space to suspend a chandelier from the ceiling of your porch or add lamps and lanterns to your tiny balcony. But anyone can string twinkle lights around a space for a magical glow. Or, when planning your new deck or patio, ask your contractor about installing stair and railing lights.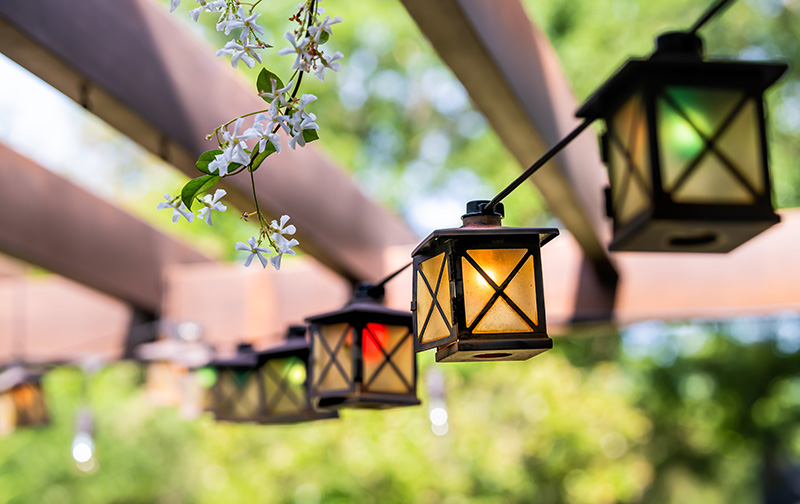 ---
Outdoor Space Ideas with One Use
Whether you're singularly focused or you're just working with a limited amount of space, embrace these single-purpose outdoor ideas.
Family Night Setup
If you have one kid or if you have five, you know that the days are long but the years fly by. Gather together with your nearest and dearest throughout the year with an outdoor family-style living room. If you have plenty of space, add in a sectional or full-size sofa and a few pairs of comfortable club chairs or Adirondacks. Finish the space with a coffee table and a few side tables. Position the entire setup to face a fireplace, TV, or movie projector screen. Add plenty of cushions and pillows perfect for summer flicks and game nights.
Al Fresco Dining
Laughter, conversation, delicious fare. There's nothing quite like the gathering of family and friends over a meal and drinks. Create an Instagram-worthy dining space outdoors with a full-size table, chairs, and a bar cart or outdoor serving buffet, if you have room. Consider adding a pergola over the dining space to make it feel more room-like.
Lake Living
If you're one of the lucky ones who lives in a spot overlooking a lake, small pond, the ocean, a river, or even a pool you'll want a front-row seat to the soothing scenery and pleasant burbling of water. Add a series of club chairs or rocking chairs to a porch or patio, and arrange a coffee or conversation table between them. Finish the space with ottomans so you can prop up your feet and watch the sunset reflect off the water.
Lounge Lovers
Make your outdoor space lounge-worthy by lining up a series of chaise lounge chairs on your deck, patio, or your lawn. Add side tables between the lounge chairs to keep drinks, books, and your phone within reach. Position an umbrella above the space for a little noontime shade.
Solitary Seating
If you're doing your morning yoga and meditation, journaling, having a cup of coffee, or just trying to get away from the noise of your house for a few minutes, anyone with any-size space can enjoy the solitude a small outdoor vignette brings. Whether it's on a patio, tucked into your garden, or in a small courtyard, enjoy the quiet of a garden bench and a side table.
---
Outdoor Space Ideas with Two or More Uses
You can choose more than one purpose for your outdoor area, whether it's a back porch that wraps around the side of your house, a large covered area and extended patio, or just plenty of green space. Here are a few multipurpose outdoor spaces ideas:
Ultimate Entertaining
If you spend most of your spring, summer, and fall outdoors, you'll want several spaces to accommodate all those outside activities. Enjoy fall football and March Madness with a full-size sofa, comfy club chairs, ottomans, and side tables all pointing toward a TV. Park your grill area nearby, and serve up some barbecue without having to go in and out of the house. When the game is over and the weather is cool, move over to the fire pit in your yard, circled by Adirondack chairs, and roast s'mores.
Romantic Staycation
Who says your backyard can't be a romantic oasis? Toast to the ones you love at a cozy bar-height table set on your porch. Move to the other end of the space to snuggle under a blanket near the outdoor fireplace. Add a settee and two club chairs to this small living room vignette, and enjoy each other's company.
Feast Your Eyes
Your dream outdoor kitchen sits just steps away from a dedicated outdoor dining space. Serve up cold craft cocktails or warm winter drinks as your guests visit around the outdoor kitchen counter perched on stools. When dinner is served, usher guests over to a dining space, with its round or long rectangular dining table and chairs or benches.
Levels of Space
Those who live on sloping terrain know the challenges of creating a usable outdoor space. A multi-level deck may be the perfect solution to uneven ground. Treat each level as its own outdoor room. You may want a lounging space on the upper level, with a porch swing or swinging bed and a few rockers. Dedicate the second level to grilling, enjoying a dip in the hot tub, or dining under the stars.
---
Make your outdoor space work for you, whether it's an apartment balcony, a poolside gazebo, or a lush lawn. With a little planning and the right outdoor furnishings, you can maximize your enjoyment.