There are many decisions you have to make when building a new house, renovating an old one, or just refreshing a space. Minute details may include which hardware to use, what type of flooring, and where you want to place outlets. Outside, however, you may have to choose what type of space you'd like for entertaining.
Should you add a deck to your home, or is a patio a better fit for the style of your house and yard? When it comes to decks vs. patios, how do you know which is better for space? We break down some of the uses of each, pros and cons… and furnishings for any outdoor patio deck.
---
Decks vs. Patios: If You Don't Yet Have One, Which Should You Invest in?
Think of your outdoor space as a blank canvas. Then you'll need to take the following into consideration before you decide which one works for your space: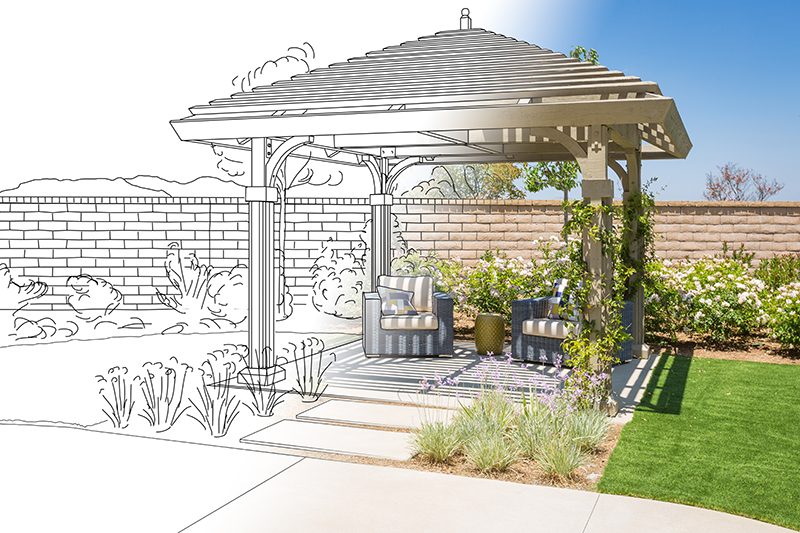 What's your home's style? Do you like the look of wood, or do you prefer stone or concrete? If you've got a log cabin as your second home, a wooden deck may better fit the cabin's aesthetic. A mid-century, one-story cottage may benefit from a concrete patio space. Or you might want a classic-looking composite deck added to your traditional farmhouse.
What kind of maintenance level do you want? Wood decks need yearly sealing and regular cleaning. A stone patio may not require much more than a good pressure wash or sweep every now and then. If you choose a more premium material like slate, you may have to periodically reseal the stone. Decks made with composite lumber need an occasional scrubbing with a soft bristle brush or a pressure wash using a fan tip and up to 3,100 psi to remove stubborn dirt and debris.
Where do you live? A steeply sloped yard is a better fit for a deck, while a flat surface may lend itself to a patio area.
What extras do you want to be added? If you're looking for lighting integrated into your space, a deck may be a good choice since lights can easily be wired into the steps and railing.
What is your budget? Depending on the materials you choose and the size of the space, patios tend to be less expensive than a deck. According to Home Advisor, the national average of a patio is around $3,400, but costs can vary widely. Materials, size, and placement will determine deck costs, which can range anywhere from $5,000 to $15,000, or higher.
---
Uses & Benefits of a Deck
A deck is an elevated structure that directly attaches to a home and offers a flat outdoor surface. Decks are widely used in hilly areas and on uneven ground, but even those with flat yard space can build out a lower-to-the-ground deck. You can also have your deck built around an in-ground or above-ground pool, over an air conditioner, and around a tree. Add a pergola over a deck, or screen it in for an outdoor room.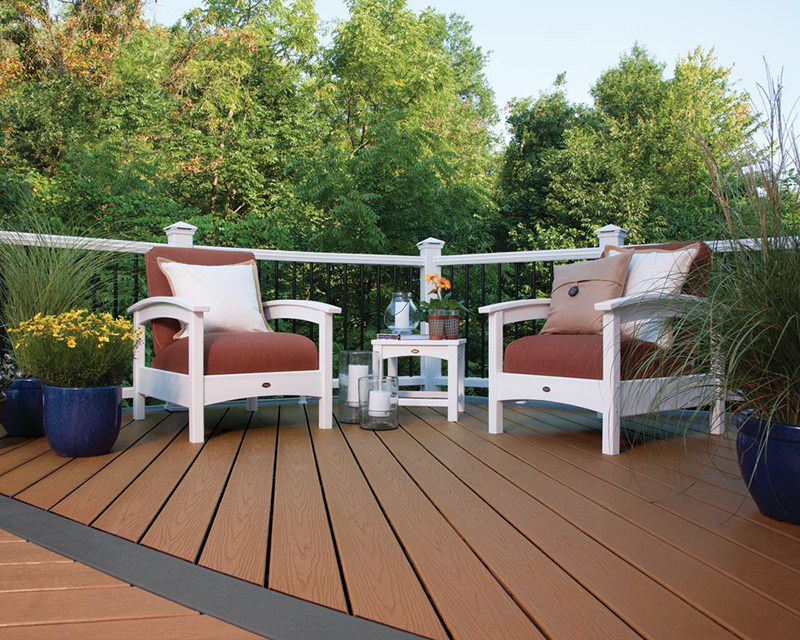 Deck construction is a little more involved than a patio. In general, a deck consists of:
Footings and support posts to anchor the entire structure.
Beams, bridgings, and joists to lay the groundwork for the deck boards.
The actual decking forms the surface of the structure.
Railings and railing posts for safety.
Stairs to enter and exit the deck.
Keep in mind that many cities have ordinances requiring you to obtain a permit and inspection for the deck-building process. Your contractor should be able to walk you through what you need to know.
---
Advantages of an Outdoor Deck
Decks are easy to customize. With so many shades of wood or composite lumber, different stains, seals, and paints, you can completely customize your deck's aesthetic to match that of your home.
Decks remain comfortable in the summer. Unlike a stone patio, a deck doesn't absorb nearly the amount of heat, making it cooler on feet throughout the warmer months.
Decks can be installed anywhere. That mountain home with the precipitous drop off the back of the house, the beach home with shifting sands, a yard with a steady slope and rocky outcroppings all can be retrofitted with a custom deck designed to create usable space in your yard.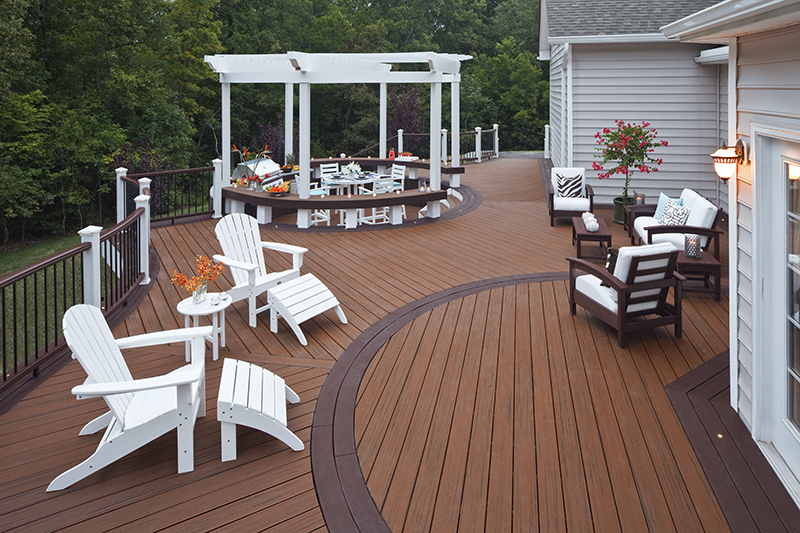 Decks add plenty of curb appeal. Even if it's on the back of your home, a deck is an attractive addition to prospective buyers looking for livable outdoor space.
Decks can give you a better view. Easily survey your property and the landscape beyond from the vantage point of your deck. Look out over the water, into the woods, and at mountainous terrain from the front seat you get right on your front or back deck.
---
Uses & Benefits of a Patio
Like decks, patios can expand the square footage of your living space, they're low maintenance, and they last a long time with little upkeep. While the construction process can be involved depending on the flatness of your land, building a patio usually doesn't require permitting or inspections.
Whether you are a confident DIYer who plans to lay your own concrete pavers in a small spot on your yard or you're hiring the job out for that slate or sandstone patio around your pool, a typical patio construction process involves:
Leveling the patio space.
Layering gravel and sand.
Fitting the stone or pavers together.
Filling cracks with grout, if necessary.
Sealing certain types of stone.
---
Advantages of an Outdoor Patio
Patios don't have to be attached to a structure. Maybe you spend more time in the garden and want a dedicated patio space from which to admire the fruits of your labor. As long as there's a level space and local ordinances allow it, you can locate that patio in the middle of your garden or yard.
Patios are a more budget-friendly option. Since you're not building up, like with a deck, patios are generally a bit less pricey, particularly if you go with a readily available material like concrete. Price, of course, will depend on the size and local labor, too.
Patios hold up to the weather. While you probably have to wear shoes to set foot on your patio in summer, a patio requires very little in the way of maintenance throughout the year. A good hosing down may be most of what you need to do. Keep in mind that if you live in an area that gets extremely cold weather, like New England or the Upper Midwest, stone patios may crack more easily, particularly if the layers beneath the patio weren't properly installed or prepared.
Patios add visual appeal. Like a deck, maximizing outdoor space is an attractive proposition for any potential homeowner.
---
Furniture for Decks & Patios
Rocking chairs, dining sets, sofas, and swings all work well in your outdoor space. But before you make the investment into an outdoor patio or deck furniture, decide how you plan to use the space, find what fits, and what's most comfortable.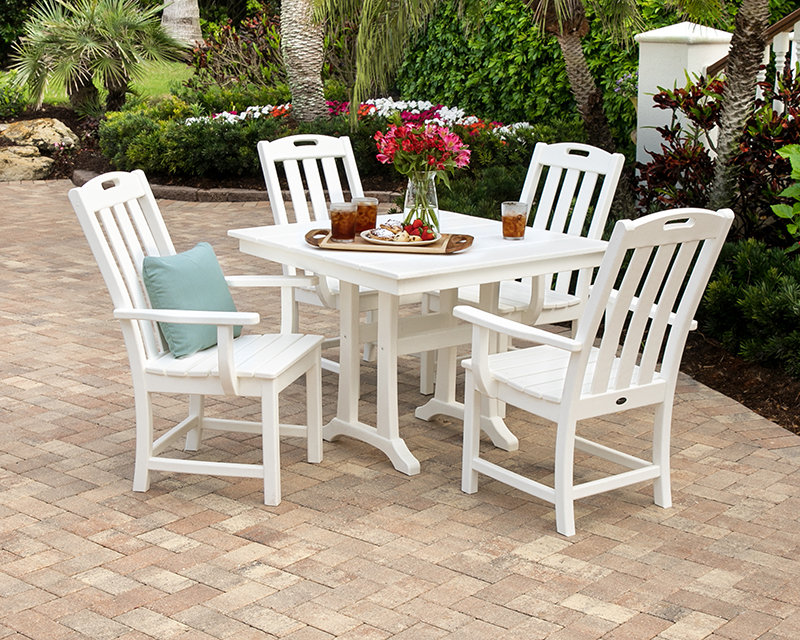 Add Adirondack chairs to your deck that overlooks a scenic vista.
Place benches on either side of your patio for easy seating.
Create an outdoor dining space using a bar-height table or a full dinner table, depending on the size of your deck or patio.
---
No matter whether you choose a deck or a patio, in the end, you have a solid surface for maximizing your outdoor space season after season.