Deck or patio? Which do you have at your home, or which is ideal to build out in your backyard space? While both have striking differences, what each has in common is the fact that they extend your livable outdoor space. 
Maybe you have an existing deck that needs rebuilding, or your backyard is a blank canvas and you need the inspiration to build a dedicated outdoor living area. If you're looking for inspiration to get started with deck and patio design, read on. We break down some ideas for both types of spaces:
---
Common Deck Types & Sizes 
Decks extend out from your home via some type of raised platform. It could be a deck raised a foot in the air on an unevenly sloped yard or a tall post-and-beam deck with stairs that sits 10 feet high on the side of a hill.
Common Deck Materials Include: 
Composite Lumber — Recycled materials offer a more sustainable take on a traditional deck. Composite lumber is made from a mixture of plastic, wood, and a binding agent. Ingredients and material ratios vary from manufacturer to manufacturer.
Cedar — The cost-effective wood is durable and resists moisture and decay. A properly maintained cedar deck can last several decades.
Pressure-Treated Wood — When properly sealed, a pressure-treated deck also withstands the test of time. Most pressure-treated wood comes from fir and goes through a process to slow any deterioration.
Vinyl — Like the siding on many homes, vinyl offers another long-lasting, alternative decking option with prolonged waterproof protection.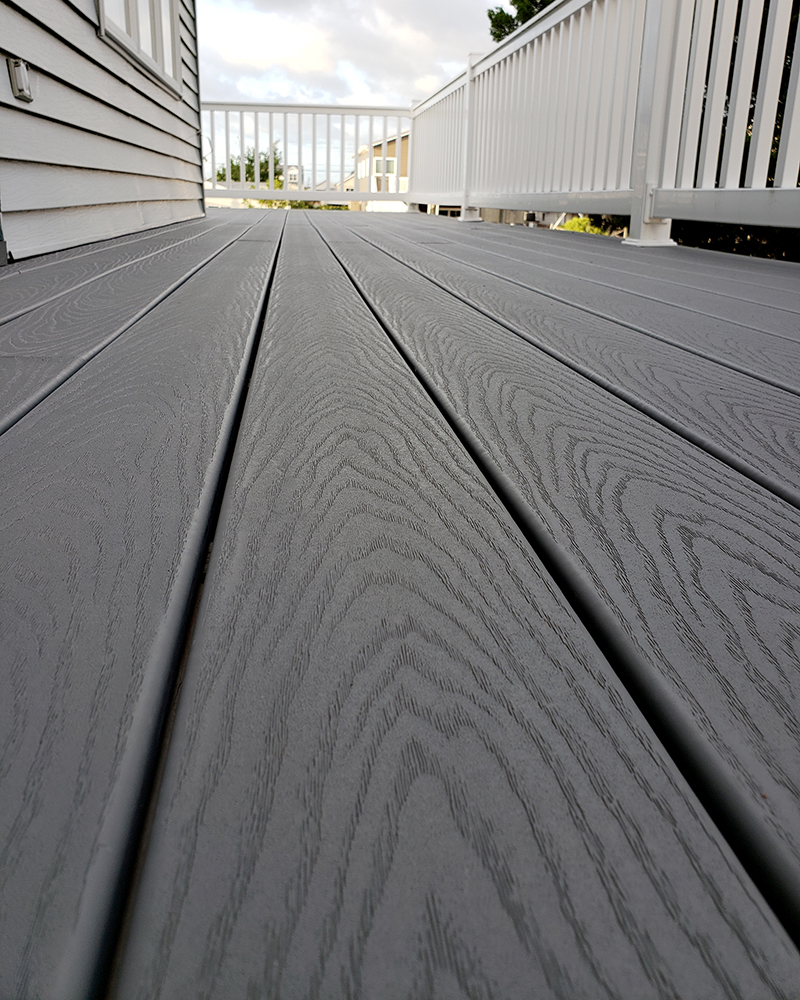 ---
How to Plan a Deck 
When you're looking to build a deck off your home, here are a few tips:
Plan Your Location — Chances are you'll be building a deck off the rear or the front of your home. Maybe you're planning a deck to surround an above-ground pool or hot tub. No matter where you're building, you'll want to survey the ground to determine what size and height will work best for the space you have.
Determine Deck Height — You'll need to look at the door near which you plan to build the deck, and adjust your deck height to be within 2 inches below that door.
Choose Your Materials — The materials you select to build your deck largely boil down to cost, location, and look. For instance, if you're constructing a deck in a shady spot that stays wet a good portion of the year, a composite or vinyl deck may be a better choice than wood. Your choice of material, the size of your deck, and its height will all play into the cost of the final structure. Mid- and higher-elevation decks will need stairs, which increases the cost, too.
Select Your Style — Work with a landscape architect or contractor to find a look that fits with your home's aesthetic.
Consider Building Codes — Going with a reputable, professional builder will expedite the process of permits and making sure your structure is in line with building codes.
Add on Extras — Want your deck stairs and railing illuminated at night? Talk to your installer about the cost of adding safety and ambient lighting.
Average Deck Sizes 
Your yard space, budget, and your home's footprint all will determine your deck size. A good rule of thumb, however, is that your deck shouldn't be larger than 20% of your home's square footage.
Standard small, medium and large deck sizes include:
12 x 12
12 x 14
12 x 16
12 x 18
---
Common Patio Sizes & Types 
A patio, on the other hand, functions as a type of open space on flat ground. Rather than an elevated structure, a patio generally is constructed of stone, concrete, or flat pavers. Patios can come right up to a house, or they can be detached from the structure. You may even have both a patio and a deck, and your patio space may even be under the deck.
Patio Materials May Include: 
Brick — This has been a de facto patio material for centuries, thanks to its hardiness and architectural look. Play it straight with neat lines of brick, or go with a herringbone pattern for enhanced visual interest. Even if your patio isn't brick, you may choose to surround the patio with bricks for a neat edge.
Flagstone — These flat slabs of rock may include sandstone, limestone, or other rock near your area. With different shapes and various sizes, a flagstone patio features a patchwork style.
Stone Tile — Slate, granite, limestone, travertine, and even sandstone cut into large, neat tiles impart a more elegant look to a patio area.
Concrete Pavers — Thanks to their ease of manufacturing, weather-hardiness, and a variety of styles available, concrete pavers are increasingly popular for walkways and patios. Choose a natural-colored stone, go with a brick-red look, select square pavers, or go with those that have more visually interesting edges.
Concrete Slab — Landscape designers and contractors can create a cost-effective concrete slab using a mold. Concrete goes well beyond a bland grey, too. This patio material allows you to get creative, whether you choose to have the concrete colored and scored into tile-like sections or patterned and brushed to mimic the look of a more expensive stone.
---
How to Plan a Patio 
Before construction begins, you'll want to consider the following:
Plan Your Location — How private will your patio space be? Choose a spot that keeps the prying eyes of neighbors to a minimum, if possible. How close do you want your patio to the house? If you frequently entertain, consider a patio nearby for ease of foot traffic.
Consider Drainage — Work with a contractor or landscape architect to determine whether or not you'll need to add additional drainage. You don't want water or debris collecting on the surface of your patio, and you may need to add drainage around the patio to redirect that heavy rainfall or snowmelt.
Determine Purpose — Again, if you plan on creating a cohesive outdoor space with a living section and outdoor kitchen, then you'll want a bigger patio space. If you know that realistically you'll only use your patio a few months out of the year, you may want something smaller.
Pick Out Materials — Work with a contractor or designer to determine what works best for your home and yard's style, the availability of materials, and the costs.
Choose a Shape — Square, round or amorphous. Creating a patio from scratch gives you the license to pick something you really love, and a curved patio trimmed by hedges and plants will definitely add visual appeal to your yard.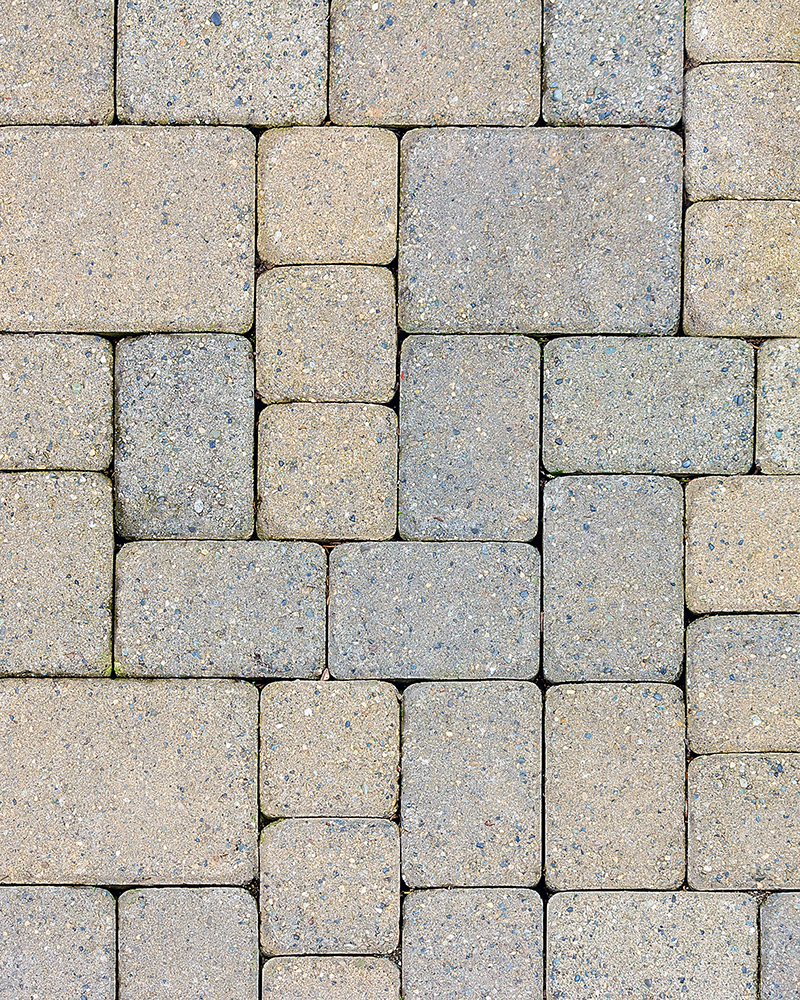 Average Patio Sizes 
Your patio can be as big or as small as your outdoor space allows.
A bistro-size patio of 6 to 7 feet is perfect for entertaining a small number of guests.
An outdoor slate courtyard used to host dinner parties or leading up to a pool could be anywhere from 16 to 18 feet.
A 6- to 10-foot round patio may be exactly what you need to put out a few chairs around a fire pit.
---
Adding a deck or patio to your home is a great way to enhance curb appeal and maximize your time outdoors. A little planning on the front end will ensure you and your family and friends enjoy quality time for years to come.