Considering your own deck remodel or construction project in the future? You're not alone — the composite decking industry grows each year by about 5%, and shows no signs of slowing down. American families are seeking more outdoor space to entertain, dine al fresco, splash into the pool, and simply immerse themselves in the simple pleasures of nature.
Before you begin building your own dream deck, you're probably wondering: what are the current deck trends? What styles, features, and materials should I incorporate into my deck? You're in luck — we've collected all of the best deck trends of 2020 in one place.
---
Best Deck Trends of 2020
Incorporate one or all of these trends into your deck project. Keep in mind, these "trends" are not fads — they are evolutions of the decking industry that are here to stay. Take these ideas as inspiration and then browse galleries of modern decks online to see how each trend can work together to create an absolutely stunning deck brimming with personality. 
1. Unconventional Locations
Who says your deck has to extend from your kitchen or line the back of your home? Freestanding decks and rooftop decks are becoming increasingly popular as homeowners embrace the development of moisture-resistant deck understructure and utilize the space they have to place a deck in a shaded portion of the garden or next to a water structure. 
A lack of space shouldn't bar anyone from building a deck, and more people with non-traditional or narrow yards are throwing out standard deck construction altogether to build low-rise, low-maintenance decks wherever they please. Unattached decks also are inspiring homeowners to go beyond the standard expectations of deck furniture to choose personalized pieces that allow them to feast, party, play, tan, or simply birdwatch while remaining true to their sense of style. 
2. Plentiful Deck Shading
More homeowners are tackling deck construction with shade as a top priority, not an afterthought. In 2019 they have more options than ever to plan shading for their deck beyond the basics like standing umbrellas. Carefully planning the shade structures in your deck increases the amount of time per day you can spend outside without getting overheated.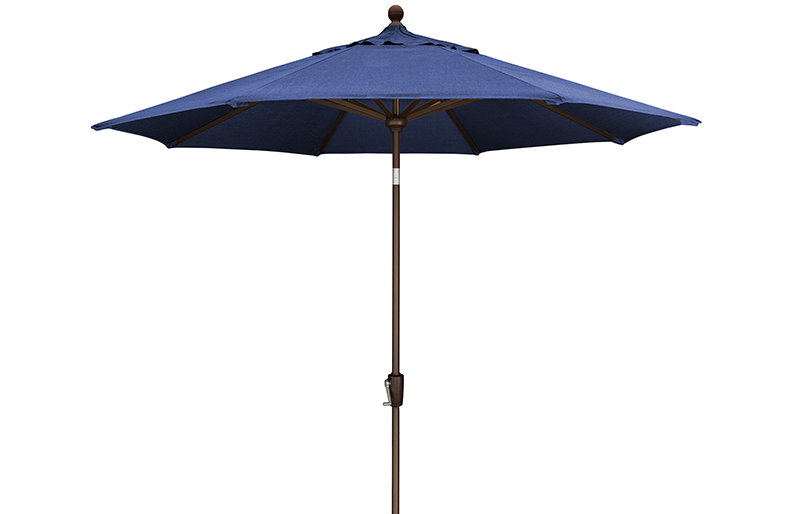 One particular product that is on the rise both as a privacy screen and sun shield is UV stabilized lattice. Implementing lattice screens as deck skirting along the side of the deck that faces the neighbors is becoming common, as is using lattice in conjunction with pergolas and gazebos to provide some relief from the sun.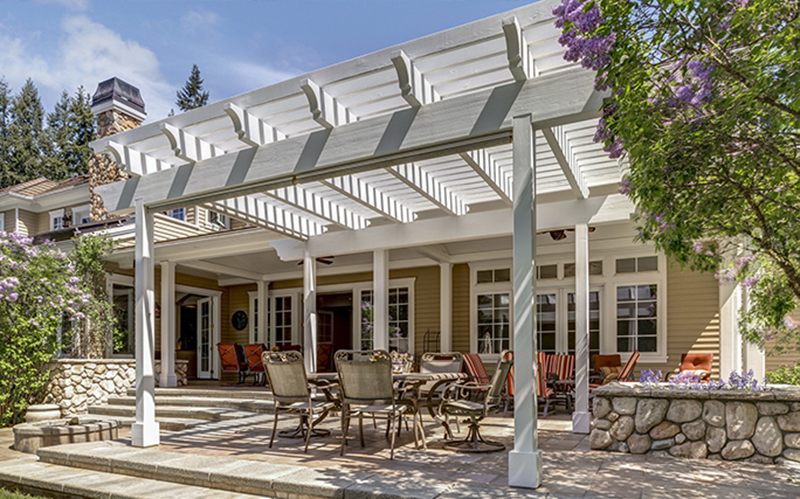 If homeowners decide to work with a contractor, the contractor can recommend the best multi-pronged approach to include shaded areas on the deck by incorporating a combination of awnings, lattice, and other weather-proof structures.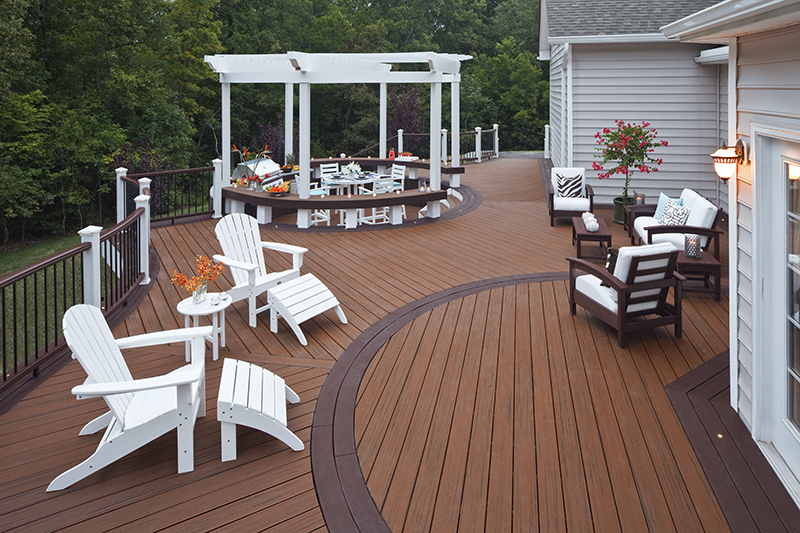 3. Under Deck Drainage
Homeowners looking to maximize space and add an outdoor "room" wherever they can are flocking to underdeck drainage as an innovative solution that allows them to add outdoor furniture in a shaded area directly underneath their deck.
Transform elevated decks or second-floor balconies in a matter of hours by installing an under-deck drainage system that redirects rain and prevents it from falling beneath the deck. Well-constructed under-deck drainage systems require little maintenance and shield areas below from all types of weather and debris.

The newly-dry space beneath a deck outfitted with under-deck drainage can be furnished with a couple of Adirondack chairs or a deep seating set to enjoy a quiet moment away from the daily grind. Pop in a few planters or a sculpture to impress guests and add value to your home.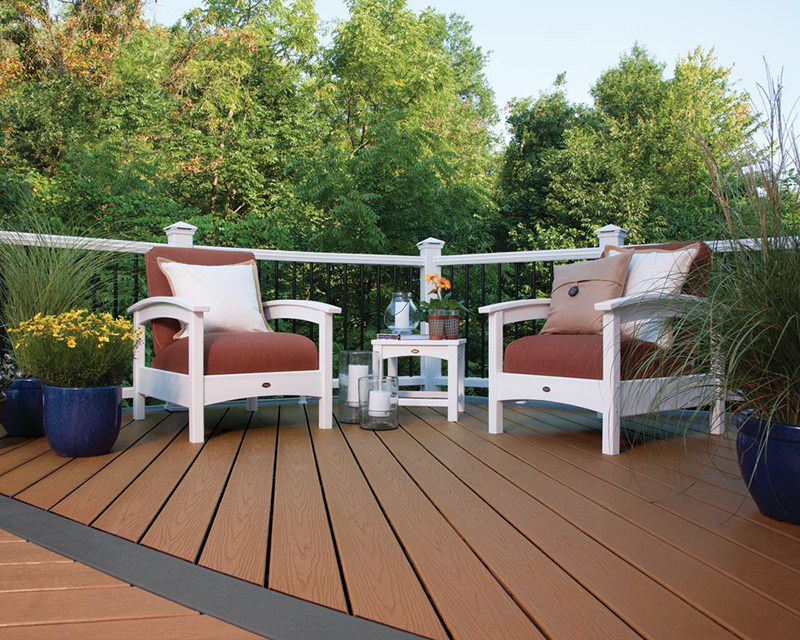 4. Bold Colors
Composite decking is available in more distinct colors and shades of brown, grey, and tan every year. With a wider range of options, more homeowners are opting for contrasting two-tone color schemes for their decking and railing to mirror the bold choices of commercial storefronts.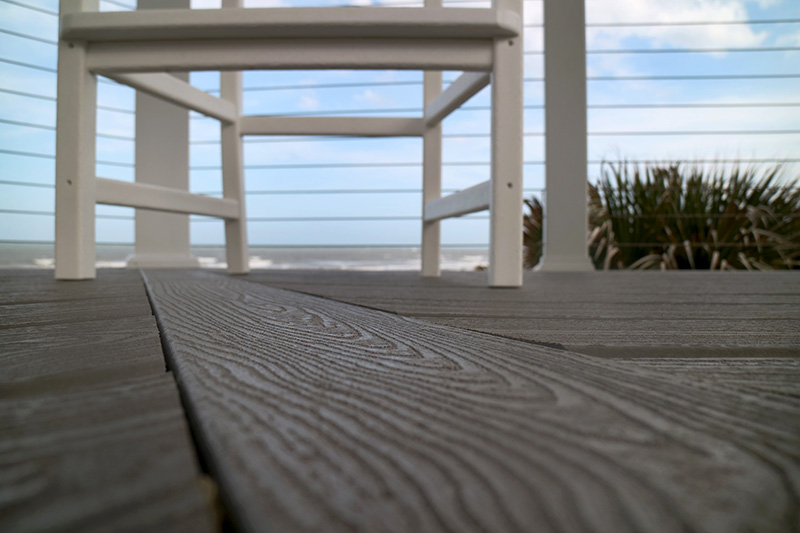 Browns and greys are still the most popular color choices for decking, but variations like chili pepper and cappuccino are giving them a run for the money. Rich earth hues and deep red clays have come into their own in 2020, along with bold white accent borders and lighter shades of decking to contrast with more neutral homes.

Where this trend is really taking off is deck furniture: though Earth tones and neutrals are reliable colors, more deck owners are adding vibrant splashes of green, blue, red, and yellow as delightful accents to draw the eye and delight guests.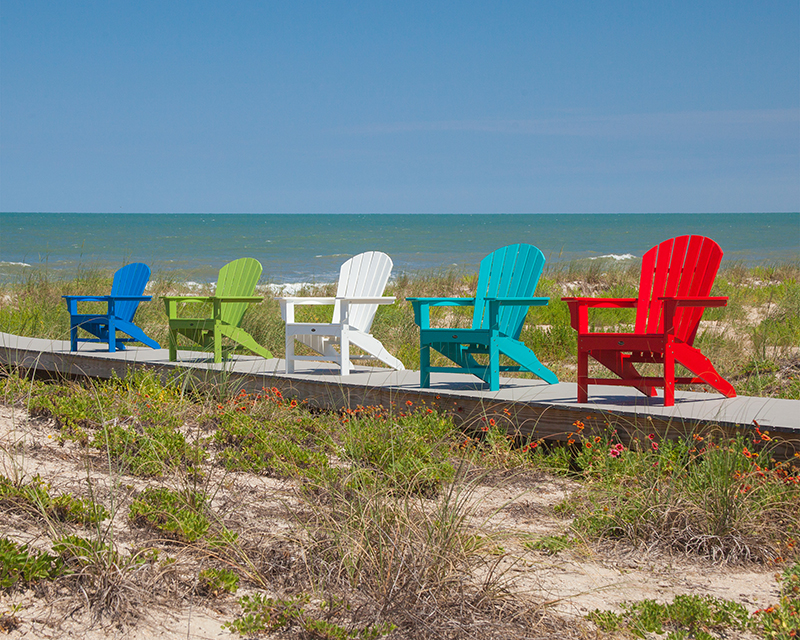 5. Mixing Materials
As we continue through 2020 expect to see a blurred line between residential and commercial styles. Sophisticated homeowners need only to pull up Instagram on their phone to view hundreds of adorable outdoor patios and modern decks from the hippest breweries, cafes, galleries, bars, and markets. The secret is out: the key to great design is to mix it up, and as far as decks are concerned anything goes.
Combining materials in inventive ways will add texture and nuance to any deck while making otherwise standard furniture pieces or railing options stand out. What kind of combination will look timeless yet trendy? An example of a potential clash that totally works: composite decking, aluminum railing, and HDPE deck furniture that resembles wood. 
When in doubt you can always consult a contractor or designer. Using contrasting materials adds an intentional edge to your deck design without straying into the realm of the avant-garde. 
6. Mood Lighting
Crank up the ambiance! Contractors have been working their magic to install subtle accent lighting that embeds a gentle glow into the foundation of your deck. Think sleek, low-profile lights along the deck railing, or recessed deck lights that set the mood for romantic dinners after sunset. More homeowners are opting for orange and yellow tones over traditional white lighting.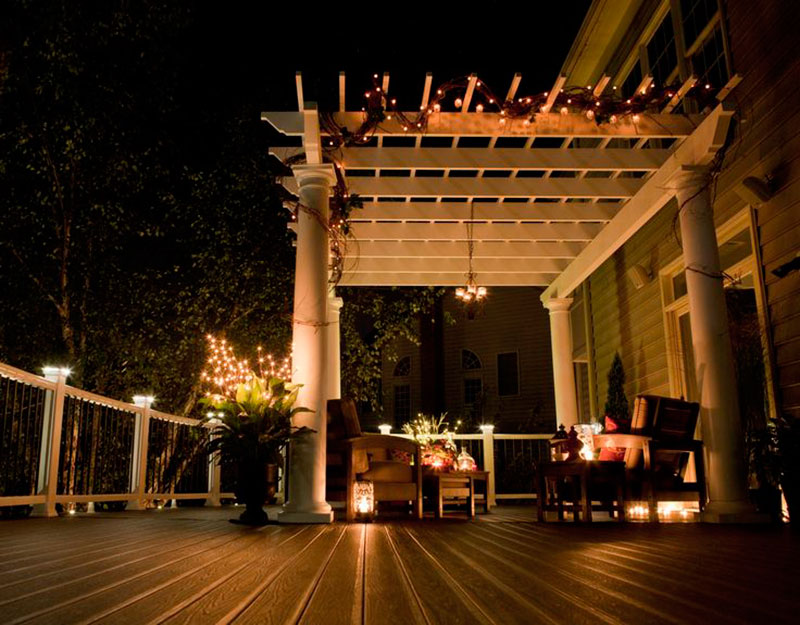 The trick to trendy deck lighting is elegant, low-voltage lighting that is quickly becoming a staple of classy modern decks and patios. Contemporary angles and easy-to-install accessories allow homeowners to truly personalize the mood lighting of their deck, whether they go with step lights, deck sconces, or lighted post caps. 
---
Conclusion
If there's one takeaway from 2020's deck trends, it's this: deck trends are advancements in the way homeowners utilize decks. Unlike fashion trends that change every month, these popular styles, features, and options will add functionality to your deck will showcasing your singular sense of style. 
Take advantage of this year's decking trends as you begin to plan out your deck addition or remodeling project. Dream big, and consult our other guides to determine your deck furniture style or nail down a layout for your deck.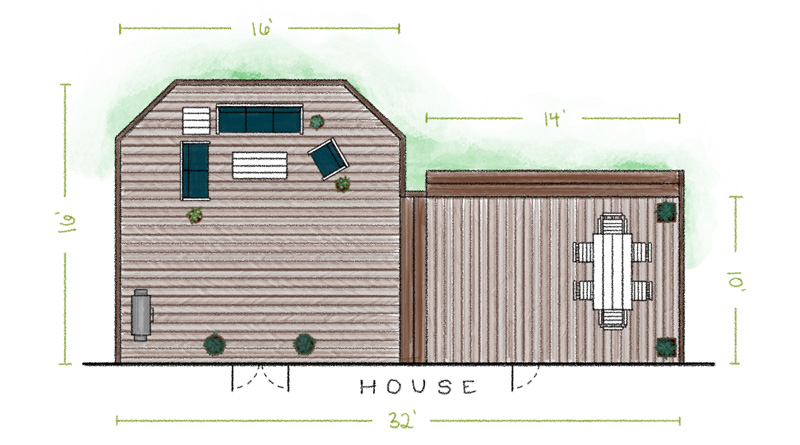 What trends did you end up using? Sound off in the comments!